Welcome to our office in Wiesbaden at the medicum medical centre
DEDICATED TO EXCELLENCE
in Ear, Nose, Throat and Head/ Neck Surgery
Due to the COVID 19 Situation, do not book online appointsments if you suffer from
fever, coughing with discharge, sore throat or breathing problems.
In those cases please book appointments only by phone.
News, Online Appointments, Opening Hours
We are ENT specialists and provide highly professional medical advice, are equipped with the highest level of diagnostic and testing equipment and work to maintain the finest skills in ear, nose and throat treatment.
Whatever is necessary, either surgical treatment or drug therapy, our team will find the best option for you to regain your health and solve your special ENT problem.
We strive to maintain our high level of knowledge and skills through continuous education and training.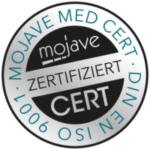 DIN EN ISO 9001: 2015 certified
We are looking forward to your visit
Conebeam CT now available in our office: high resolution imaging